The Para Princesses
| | |
| --- | --- |
| Bernardette and Hollie are still pround to be West Somerset branch Para Princesses and are currently working hard on their latest Duke of Edinburgh awards, and continue to fund raise for the branch. | The girls have both been doing a great many differant things of late and have written their own updates for the website. |
Hi Everyone,
I am pleased to report I have been awarded my Silver Duke of Edinburgh and passed all my GCSE's and am now at college doing my A levels.
Recently I have started my Gold Duke of Edinburgh award and for my service I am raising money for the PRA by doing a parachute jump with the Red Devils. I have wanted to do this for years and now I have the opportunity to do it. I would like to thank everyone who has sponsored me so far it means a great deal to me and it is definitely going to a great cause. Hopefully, if the weather is on my side, I will be jumping next summer as well as finishing my gold aware. Finally I would like to dedicate the parachute jump to Mr. Dougie Allen, Who I miss dearly.
Love
Hollie 
xx
(22.11.07)
Hello,
I am still working towards my Bronze award, just a few weeks of one section left to do. I am also studying for my GCSE's and gonig to Air Cadets which I love.
A few weeks before November 11th myself and three others were asked to be the Cenotaph party for the Remembrance Sunday parade in Vivery Park. I felt delighted to be chosen. On the Sunday when I met up with the other three cadets, Cpl Chris Jupp, Cpl Sophie Cridley and Cdt Dan Hickman it hit me what a privilege it was to stand on the corner of the Cenotaph. I felt excited as we were forming up but not nervous because I knew the commands I needed to know. I started to worry when I heard the band while I was standing there waiting for the service to start as I know the other Air cadets would be standing in front of me. By the time the service began I was in my own little world watching a ladybird crawling on my shoes ignoring my legs which had started to cramp up. After the service we had to remain on the Cenotaph for a a bit longer as everyone left, and I was feeling pleased I had managed to last the parade without fainting, I had cramp in both legs and it hard to march off the Cenotaph but the pain didn't compare to the pride I felt to have been a part of such a moving service. I was also fairly upset to see the Cub Scouts stand on my friendly lady bird!! After the service everyone kept coming up to me telling me how proud they were of me. I felt very proud of me too and the other cadets of the Cenotaph party. Well done to them too.
lots of love 
Bernardette
xx
(22.11.07)
                  

       

 

                   Presenting the fundrasing cheque

                       

            

 

                Bea running the table top sale at garden party

 

              

             Bernardette in her Working uniform for cadets

                 

               Smart in her Blues. She now has correct shoes!

           

 

                                          On Parade

                     

 

                                           Proud Grandad
On the 28th of March, I was going to receive my Duke of Edinburgh's Bronze award. I didn't realize that Dougie,Mick, Pete and Ted were going to be there at my school. I walked into the assembly and they were there, suited and booted, even with the Standard!!!!!! I sat down knowing what was going to happen with my face glowing bright red. I sat as everyone received their awards. Then Doug and Mr Porter (Head of business at Bishop Foxes school) said they had a special award to make. Doug Allen spoke to the whole of my year, I was shocked and delighted at how they all listened in awe of the amazing man standing in front of them. Doug spoke to us as the next generation. All day long students were coming up to me full of praise and respect for the work I had done but also for the brave men of the PRA. In fact several of the boys and girls who are looking to join up after leaving school were honored to have listened and seen them all at our school. Doug presented me with my very own set of wings, these wings were his own and I wear them with pride. 
I was so happy to have gotten my bronze award, after working so hard for it. I really want to finish my silver award and then my gold at college. 
Thank you very much for all the support I wouldn't have done it without the help from my family, the PRA and especially Bridget whose idea to work with the PRA was brilliant. 
Hollie xx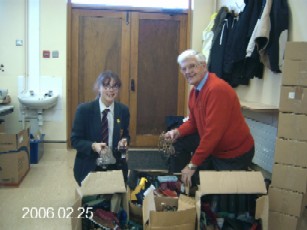 I have now delivered over 1000 pairs of glasses and lenses for distribution in delveloping countries. Thank you very much to everyone who donated glasses. Thanks to you somewhere in the world people, men women and children, can see better and have a much better quality of life.
                                      Thank-you very much
In 2005 I had a lot of fun doing various things with you all at the PRA and here is a small collection of photographs to show it.
Love and Thanks from Hollie and Bernardette xxxxx
Return to homepage
top